Rapid Response Webinar: Ukraine—Nuclear Security and Nuclear Safety Dr. Tatsujiro Suzuki
Hosted by the OMEGA Collaborative
Omega and the FAN are hosting a rapid response webinar on the nuclear implications of the invasion of the Ukraine. Professor Tatsujiro Suzuki will cover:
nuclear threat and risk of nuclear weapon use (nuclear security)
nuclear power plant safety and its vulnerability against military attack (including lessons from Fukushima) (nuclear safety)
how to reduce nuclear risks in the middle of crisis.
Given the breadth of Dr. Suzuki's expertise and stature in the field, we are very fortunate to have him join us.
OMEGA WEBINAR CO-SPONSORS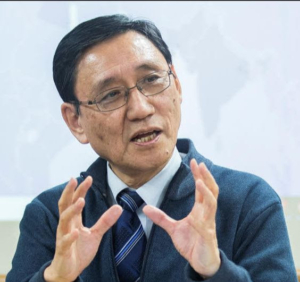 Dr. Tatsujiro Suzuki is a world leader in nuclear power plant safety (deeply involved in the Fukushima clean-up), nuclear proliferation, and the abolition of nuclear weapons. He is currently the Vice Director, Professor of Research Center for Nuclear Weapons Abolition at Nagasaki University (RECNA), Japan. Before joining
RECNA, he was a Vice Chairman of Japan Atomic Energy Commission (JAEC) of the Cabinet office from January 2010 to March 2014. Until then, he was an Associate Vice President of the Central Research Institute of Electric Power Industry in Japan (1996-2009) and Visiting Professor at the Graduate School of Public Policy, University of Tokyo (2005-009), an Associate Director of MIT's International Program on Enhanced Nuclear Power Safety from 1988-1993 and a Research Associate at MIT's Center for International Studies (1993-95). He is now a member of Advisory Board of Parliament's Special Committee on Nuclear Energy since June 2017. He is also a Council Member of Pugwash Conferences on Science and World Affairs (2007-09 and from 2014~), co-chair of International Panel on Fissile Materials (IPFM) and a Board member of Asia Pacific Leadership Network for Nuclear Non-Proliferation and Disarmament (APLN). Dr. Suzuki has a PhD in nuclear engineering from Tokyo University (1988).