The Resilience Gathering
The New School at Commonweal hosted The Resilience Gathering, including keynote speakers Nate Hagens and Joanna Macy, leading authorities in the field. They engaged several dozen participants on these questions:
Can we avoid civilizational collapse?
Can we "bend" and not "break"?
We face a "perfect storm" of interacting global stressors. Is resilience a possible response?
What does real resilience look like?
In this talk given at The Resilience Gathering, Joanna Macy guides us how to suffer with the world and make responsible decisions that take into account our interconnectedness with all that is.
~ EVENT CO-PRESENTERS ~
The Resilience Project, Millennium Alliance for Humanity and the Biosphere, The Fan Initiative
&

The Post Carbon Institute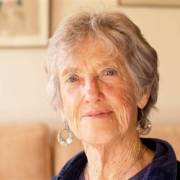 Joanna Rogers Macy is an environmental activist, author, and scholar of Buddhism, general systems theory, and deep ecology. She is the author of twelve books. She was married to the late Francis Underhill Macy, the activist and Russian scholar who founded the Center for Safe Energy