Nafeez Mosaddeq Ahmed hosted by Michael Lerner
A framework for understanding the COVID-19 crisis and preparing for what is next.
Co-sponsored by: The Millennium Alliance for Humanity and the Biosphere (MAHB), The Resilience Project (TRP), Foresight Analysis Nexus (FAN), The New School at Commonweal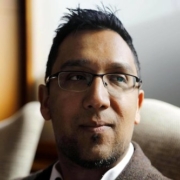 Dr. Ahmed is an award-winning investigative journalist, systems theorist and change strategist. He is 'system shift' columnist at VICE where he reports on global system transformation and founding editor of the crowdfunded platform INSURGE-intelligence. He previously reported on the interconnections of global environment, energy and economic crises for The Guardian via his 'Earth insight' Guardian blog. His reporting can also be found in The Times, The Independent, The Atlantic, Quartz, Foreign Policy, New York Observer, Prospect, Le Monde diplomatique, and elsewhere. He is the author of A User's Guide to the Crisis of Civilization (Pluto, 2010), the first peer-reviewed social science study integrating a systems approach to climate, energy, food, economy, war, terror and state-militarisation, and Failing States, Collapsing Systems: BioPhysical Triggers of Political Violence (Springer-Nature, 2017). Nafeez is a research fellow at the Schumacher Institute for Sustainable Systems and a fellow at the Royal Society of Arts. The Evening Standard has twice include him on its list of the top 1,000 most influential Londoners.